On this page you can find out about upcoming gigs as well as see images from previous gigs, I have been fortunate in receiving funding from the PRSF for many of these gigs - PRSF have funded toplap UK and YESP.





22nd November 2015 Caracas! With Will Dutta and Max de Wardener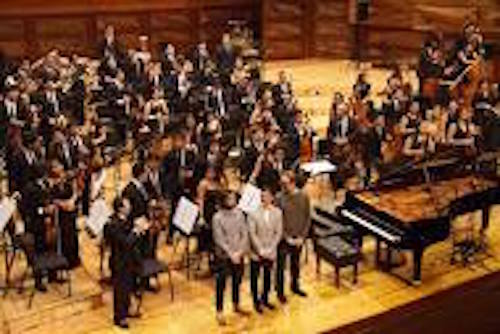 [Matthew Yee-King, Pianist Will Dutta, Composer Max de Wardener and the Venezuelan Youth Orchestra 2015]

26th September 2015 - Wellcome Collection, London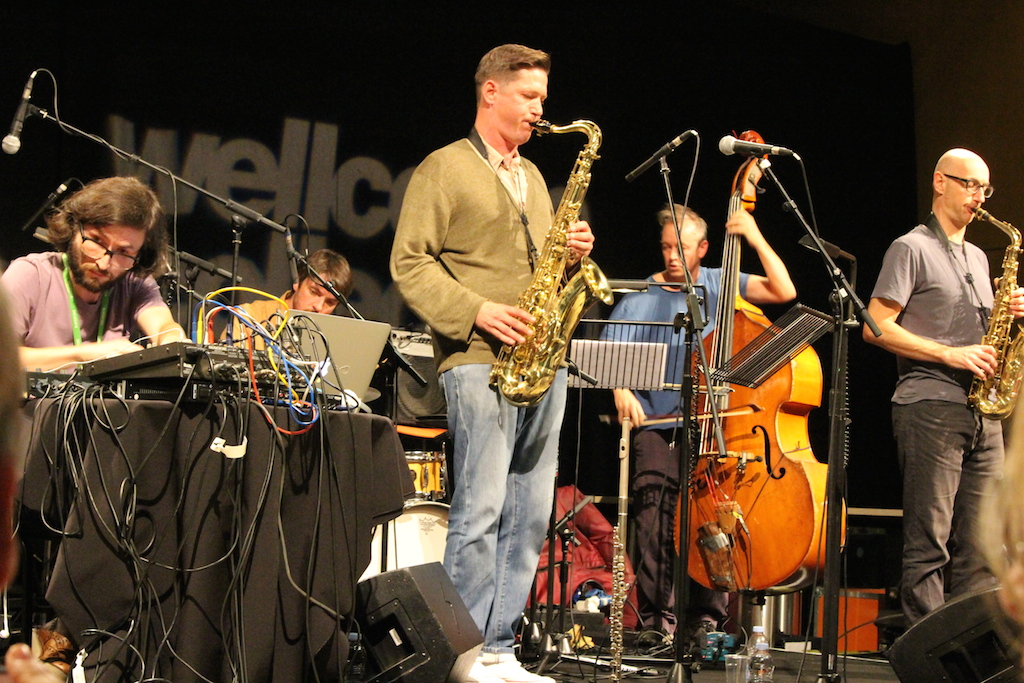 [Big jam at Wellcome Trust Sept. 2015Wow what an awesome lineup... Finn Peters, Tom Skinner, Nick Ramm, Martin Speake and ... John Edwards!]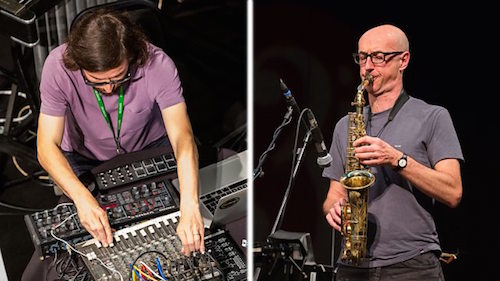 [My algorithm playing with Martin Speake at the Wellcome Collection, live on Radio 3 2015 (I was just turning it up...)]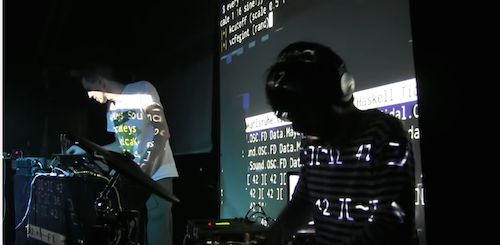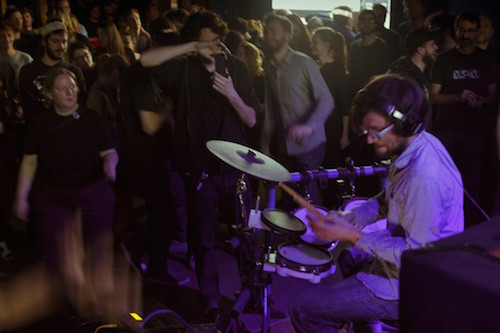 Various in 2015 with Canute (nicked this content from my collaboratorAlex Mclean's site:
18th September 2015 Incubate festival, Tilburg
15th July 2015 ICLC Algorave, Wharf Chambers, Leeds
20th Mar 2015 Computer Club Algorave, Access Space, Sheffield
17th Jan 2015 Karlsruhe Algorave 13th November 2014 Camp and Furnace,
Liverpool for FACT/typemotion algoafterparty
26th Sep 2014 Network Music Festival, Birmingham UK
3rd Jul 2014 BEAM@NIME Algorave, Corsica Studios, London UK
22nd Mar 2014 FIBER/STEIM Algorave, OSCII, Amsterdam NL
12th Mar 2014 IFAI, Leeds College of Music UK
Friday 29 May 2015 5:30pm – 6:30pm The Front Room at Queen Elizabeth Hall, London UK Matt Yee-King & Alex McLean http://webwewant.southbankcentre.co.uk/whats-on/matt-yee-king-alex-mclean-1353


Friday, 28 August 2009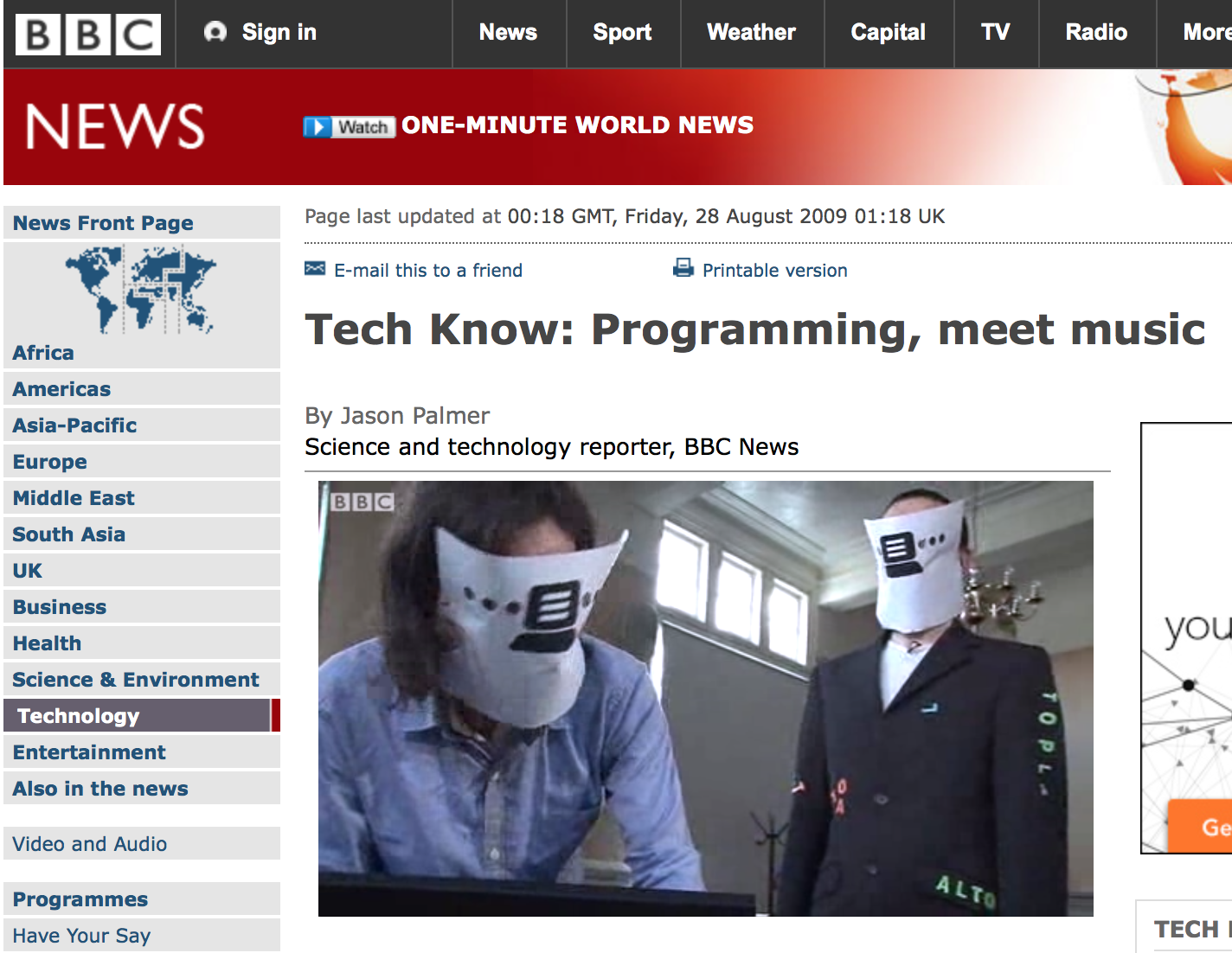 [My first livecoding supergroup experience - WrongHeaded with Slick Nilson]


28.12.2009
Finn Peters and my algorithm included in BBC Radio 3's Jazz on 3 'Best Sessions 2009' . Yes you read it right - an algorithm playing alongside a human rated as better than many human only sessions on a Jazz show. Just to say thanks to the PRSF for helping fund that project.
[Plymouth 20.09.2009] - Livecoding at the Plymouth University Planetarium.
This is a pretty off the wall one - we will be livecoding in the immersive vision theatre (a planetarium on steroids). We in this case is slub (Dave Griffiths and Alex Mclean plus Wrongheaded (myself and Nicholas Collins, algorithmic choreography). Cool! You can read more about the IVT here.
[London 16.10.2009] - Goldsmiths Great Hall, Finn Peters Quartet
I will be playing laptop and MPD pad with the new Finn Peters Quartet, featuring Finn Peters on flute, sax and gadgets, Oren Marshall on Tuba and gadgets and Tom Skinner on drums and gadgets. It'll be a combination of loose arrangements and improv. This night also features Leafcutter John, spacedog UK and slub.
[London 12.09.2009 16:40] - Mayor's Thames Festival outside the Tate Modern, Finn Peters Quartet
I will be playing laptop and MPD pad with the new Finn Peters Quartet, featuring Finn Peters on flute, sax and gadgets, Oren Marshall on Tuba and gadgets and Tom Skinner on drums and gadgets. It'll be a combination of loose arrangements and improv.
More info on the London Jazz website.
[London 05.08.2009 - Pubcode, The Roebuck Pub, 50 Great Dover Street, London, SE1 4YG] Pubcode2
Second in a series of livecoding nights in London. Thanks to the PRSF for sorting us out with some money.
More info on the toplap uk pubcode page


UPDATE - the BBC covered this one! They didn't know what to make of algorithmic dancing though. It will catch on! It will!
[London 06.08.09 - Songs for Dynamical Systems, Cafe OTO 18-22 Ashwin St Dalston London E8 3DL]
At this gig, I will not be playing personally, rather an algorithm I create at a workshop will play! There will be a series of duets between humans and algorithms. The humans include Eddie Prévost and Finn Peters. The algorithms will be written by Ollie Bown, Tim Blackwell, Nick Collins and more. (as well as me!).
More info on the Cafe Oto site.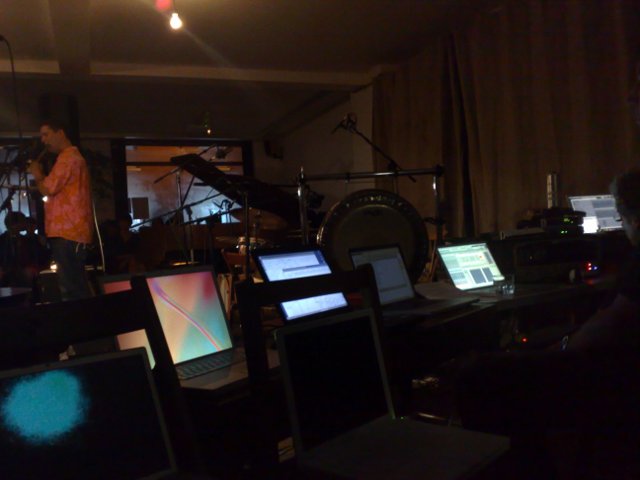 [Finn Peters vs. some algorithms August 2009]
[London 07.08.09 - Cardigan Beard 6 - 8 Manor Road Stoke Newington London N16 5SA]
I will be one member of an improvising synthesizer trio at 'the others' in Stokey. The other two members are Graham Gatheral, of Bavin fame, and Domenico Mino, who recently released the excellent 'Time Lapse' LP on Schole records. Be prepared for some hardcore sync'd arpeggiator action!
It is a really nice venue with organic food and good beer. There are some other bands as well, but I don't have a web link!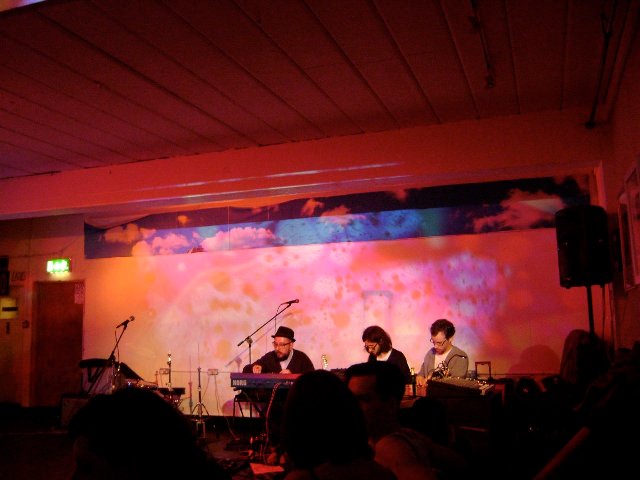 [Cardigan Beard live at the others August 2009]
[Poitiers, France 29.11.08 - Livecoding at Makeart 2008]
This long running, open source art festival/ conference is a great event. Do go along next year if you can! I was invited to do a livecoding performance, alongside Slub and Robert Atwood. I am finally getting towards being able to livecode convincing music... More practice needed though.
[Belfast 29.08.08 - International Computer Music Conference]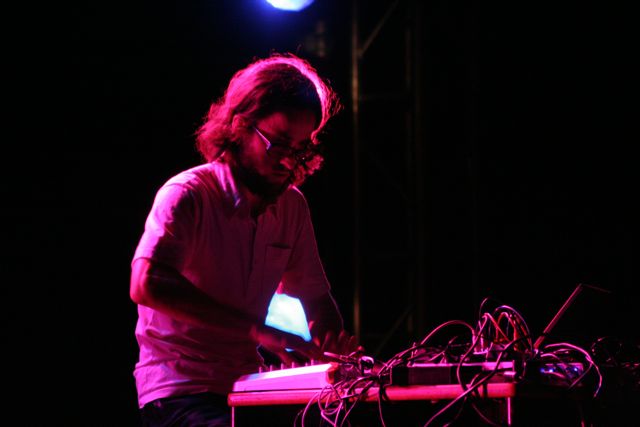 [yee-king at icmc 2008 (photo Christopher Chong)]
[LONDON 24.06.08 - SUPERUSERS IS BACK! AT CAFE OTO]
We are pleased to announce that the Superusers music night is back. We present the amazing and virtuosic coba on accordion, the mighty Finn Peters on sax and flute plus Yee-King on Supercollider and MPD pad. DJ Weird Shepherd will provide additional music from the record players.
More info here Cafe Oto listings page
[Finn Peters UK tour March - July 2008]
Playing around the Uk in Finn Peter's band over the next few months. I'll be joining Finn's 'fine band of improvisers' (Guardian.co.uk March 2008) using my supercollider code to process the acoustic instruments and synthesize further layers.

The other band members are all amazing musicians and I am really happy to be able to play with them!
David Okumu - guitar (e.g. The Invisibles)
Nick Ramm - piano (e.g. Clown Revisited)
Tom Herbert - bass (e.g. Polar Bear)
Tom Skinner - drums (e.g. Elmore Judd ensemble)


Dates are as follows:
27th March - The Sands, Gainsborough
30th March - The Sage, Gateshead
18th April - Sheffield Jazz
11th May - Pizza Express, London
30th May - The Plough Arts Centre, Torrington
31st May - Ivybridge Arts Centre
13th june – The Vortex, London
28th June – Pizza Express Maidstone
19th July - Taliesin Arts Centre Swansea
[TOKYO JAPAN April 4th 2008]
A one off special gig in Tokyo!!! I will be playing a mayhemic free improv gig with the following line up:
辰巳光英 (elc-tp)
Gideon Juckes (tuba) from London
jimanica (ds, pc)
Mattew Yee-King(electronics) from London

More info:Sabaco Cafe
Spaced Out!!番外編

[LONDON UK] 29.02.2008 - Vortex Jazz Club London, playing with the Finn Peters Finntet, 8:45.

[LONDON UK] 06.03.2008 - Appliances #4. Playing with the mighty Finn Peters in a free improv duet.
More info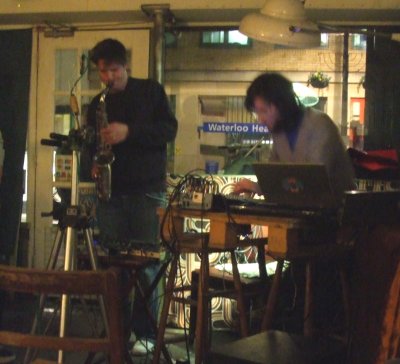 [Matthew Yee-King and Finn Peters live in London March 2008 - thanks to Sakie for the photo!]

[SHEFFIELD] 20-22 July 2007 - Loss Livecode festival, Sheffield http://livecode.access-space.org/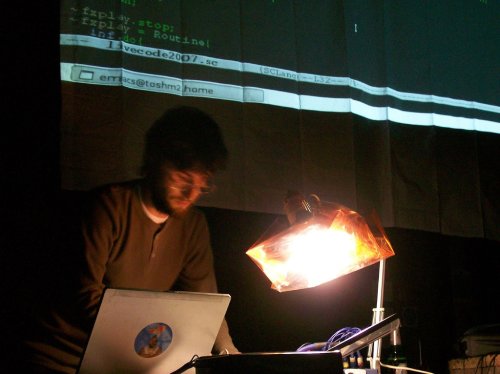 [Yee-King live at Sheffield Loss Livecode festival 2007 - note toplap compilant screen projection behind me ;)]
[LONDON] Feb 24th 2007- Lurk 1 at State51 Lurk website.. Yee-King solo live set.
[LONDON] March 27th 2007 - The trio (who were named at least temporarily 'Green Lantern' at our first gig) play the Notting Hill Arts Club.
[LONDON - 28th Jan 2007] Pizza Express!!! I am playing with Finn Peters' band at Pizza Express. This show was recorded by the BBC for 'Something Else' for broadcast in Feb or March 2007.
[LONDON - 29th Jan 2007] Notting Hill Arts club. I will be playing with the afore mentioned Finn Peters (Sax/ flute) and Tom Skinner (drums) in our new free improv trio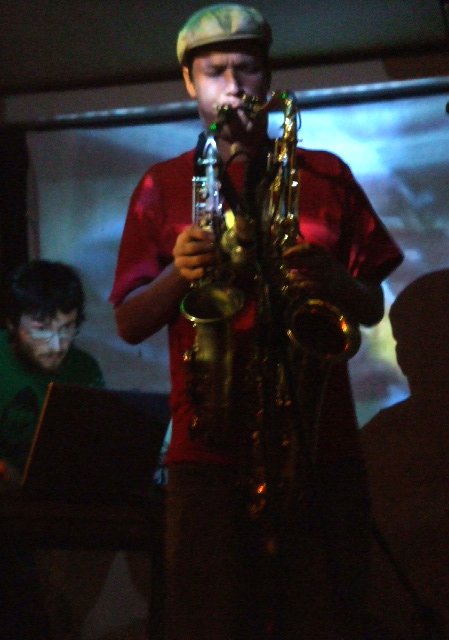 [London 2007 - YeeSP's first gig, here's Finn playing 2 saxaphones]
[LONDON] October 21st 2006 - Yee-King live in your headphones at State51, east London. Featuring my new algotihmic one man band. Le placard London
Leplacard info
State51 info
[COLCHESTER] November 9th 2006 - Yee-King live at Colchester Arts Centre, also featuring Robert Cole performing improvised poetry in a beat style as well as Pablo Fiasco of Jamie Lidell fame performing some bizarre characters
[GOMSHALL] August 2006 - Burningdork - a festival of dorkness! Yee-King headphone performance.
[NOT SURE, UK] July 2006 - Bavin live at the Glade festival
[LONDON] April 28th 2006 - Bavin live at the Electrowerks, Angel supporting Wolf Eyes. This is a LittleBig Event
[LONDON] May 18th 2006 - SuperUsers at the ICA!!! After hiding in our respective caves for the Winter, the Super Users return in May. The blurb:

Improvised music emphasizing the interaction between exciting live instrument performance and semi automated machine based processing. Featuring Dom Mino` (laptop, guitar and puredata), Bavin (digital drums, analogue synths, solid steel head gear, puredata, supercollider, audiomulch, you name it...) Yee-King (digital percussion, machine processing), visuals by Pablo Fiasco of Jamie Lidell fame (8mm, 16mm dv etc), resident DJ Weird Shepherd and very special guests (guess who...).
[UK TOUR with Max de Wardener] - I will be touring the UK in May with Max de Wardener. My role will be to process the live drums, tuba and flute, using supercollider and pure data.
[LONDON] SUPERUSERS V Superusers V on 3rd Nov 2005 at the Pool Bar London features:
X&Trick - breakcore from belgium's Bug Klinik records (http://www.bugklinik.com/), Lung - Delicate improv electronics from IXI Software (http://www.ixi-software.net/), Dominico - melodic electronica straight outta Camden, Bavin, Yee-King, DJ Weird Shepherd, visuals by ENO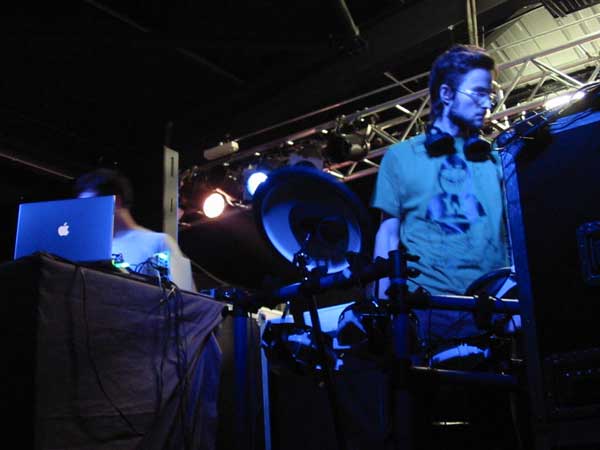 [ Bavin in Sheffield 2005, sans the infamous Bavmets, preparing to support the mighty Squarepusher on his sellout UK tour, photo by my dad as FW2010 was looking after the dog]


[SHEFFIELD] Bavin live set at The Plug (formerly .Zero) supporting Squarepusher on his UK tour. Nov 11th 2005

[GLASGOW] Bavin live set in Glasgow supporting Squarepusher on his UK tour. 25th Nov 2005

[BELFAST] Yee-King live set in Belfast 26th Nov 2005 - Bug Klinik Night @Attic Arts, Belfast, N.Ireland, barry lynn, kinnego flux,dj k-os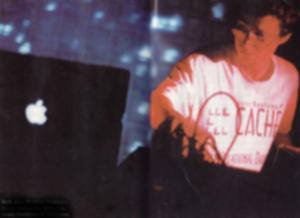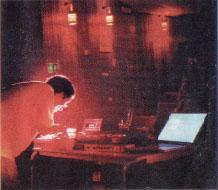 [ live at the cube, bristol 2002]

[EUROPEAN TOUR] Yee-King went on tour in Europe with Bugklinik in September 2005.
TUE 13/9 Canard Bizar, Gent, Belgium (+Sgt sonar dj)
WED 14/9 Factory, Liege, Belgium
FRI 16/09 Fri-son, Fribourg, Swiss
SAT 17/09 Kalkbreite, Zurich, Swiss (+Feldermelder dj)
THU 22/09 L'Houp, Dresden, Germany (+Sgt sonar live)
SAT 24/09 Zentrale Randslage, Berlin, Germany (+Sgt sonar live)
SUN25/09 Golden Pudel, Hamburg, Germany (+Sgt sonar live)
[LONDON] Bavin played a live improvised set at The Foundry, London 1st July 2005. Bavin will also played a live session on Resonance FM for a few minutes at some point between 12 and 1pm on July 1st.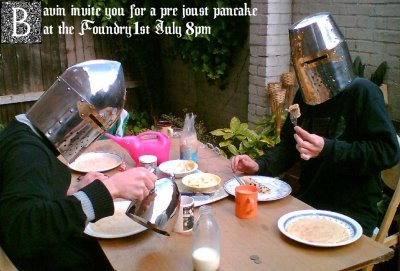 [photo by fw 2010]
[LONDON] SUPERUSERS at The Pool, London 7th July 2005. Yee-King played a live set.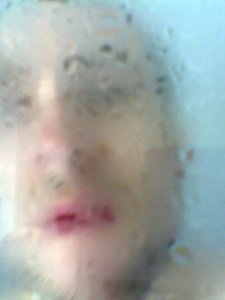 [superusers flyer, photo by fw 2010]



[LONDON] SUPERUSERS 4th August 2005 - Yee-King played a live set, Tom Jenkinson played an exclusive live solo bass set. Then they went head to head, bass and drums.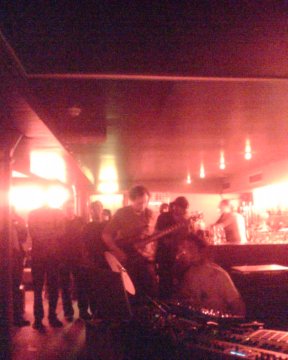 [yee-king and jenks live at superusers photo by fw 2010]
[LONDON] SUPERUSERS III - on the 1st sept 2005 we had Tom Jenkinson solo bass and free improvised sets (featuring Paul Hessian on drums), a Yee-King live set, Bavin live set.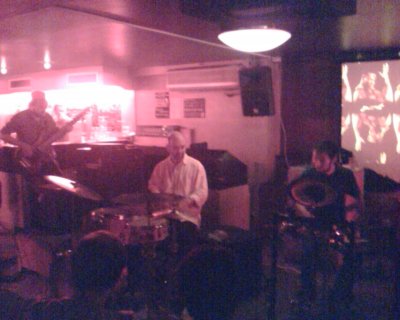 [yee-king, jenks and paul hessian live at superusers III photo by fw 2010]

[LONDON] - SUPERUSERS VI ax De Wardener live set featuring the mighty Count Tom Skinner on Drums, Yee-King live set, weird shepherd on the decks (he's back from his winnebago holiday now) Pablo Fiasco visuals.

[ROME] Yee-King played a live set in Rome on the 8th July 2005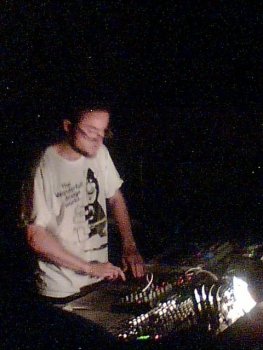 [yee-king live in rome, july 2005 photo by fw 2010]



(Also - see the bavin page)

Played many gigs in the first half of 2004 with Dani Siciliano. In this band my role was not that of a drummer, instead I was in charge of the electronic sounds in the show, We played in Japan, USA and all over Europe.

Played at the reopening party for the Cube cinema in Bristol. Nice to do a gig 5 minutes walk from where I live! First time I used GNU/ Linux in a live gig. Need to change my apple to a penguin!

wheels instead of hooves @ the spitz

Public Toilet in London. only kidding. public life maybe?. this was a worm interface night.

Played drums in super_collider in Europe (Paris, Amsterdam, Brussels)

Nitsa in Barcelona

Played at DedBeat in Great Yarmouth. This was a solo gig where I did live electronic percussion.

Played with Squarepusher ensemble in Machester and Sheffield in 2000. This was live improvised electronics and non-electronics.

Played with a band called Balzac in Brighton lots between 96 and 99.